McDonell Electric, Inc. technicians are experts in data, telecom cabling, and repair. If your business needs new cables and/or existing cables repaired, hiring a professional will ensure that the right cabling is used. Our knowledgeable and experienced technicians guarantee the work will be done efficiently and in a timely manner. Our goal is to achieve optimal speed, line clarity, and sufficiency.
Copper Wire and Cable
Copper is the most commonly used electrical conductor for many categories of electrical wiring. It is used for Building Wire, Telephone Wiring, Cable TV, Ethernet, and Power Distribution. Copper wiring compared to other non-precious metals, can handle a wider load of electrical power, has a high resistance to heat, and is resistant to corrosion.
Fiber Optic Technology
Fiber-optic lines are incredibly thin strands of glass known as optical fibers used to carry digital information over long distances using light based technology.  Fiber-optic technology is used for telephone systems, cable, TV systems, internet, medical imaging, and mechanical engineering inspections.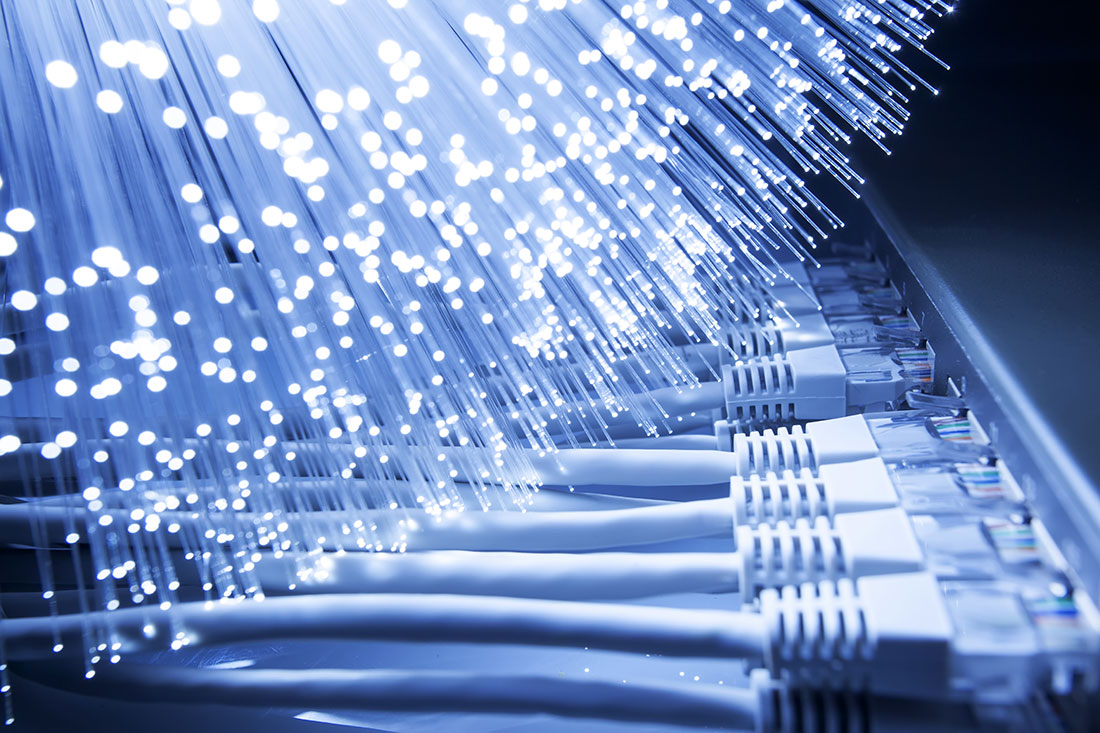 Benefits of Fiber Optic Technology
Speed and Distance – Because the fiber optic signal is made of light, very little signal loss occurs during transmission, and data can move at higher speeds and greater distances.

Greater Bandwidth – More bandwidth means fiber can carry more information with greater fidelity than copper wire.

Reliability – Fiber provides extremely reliable data transmission. It's completely immune to many environmental factors that affect copper cable.

Security – Your data is safe with fiber cable; It doesn't radiate signals and is extremely difficult to tap.

Cost – Fiber Optic cable is more expensive than copper cable in the short run, however, Fiber typically costs less to maintain, has less downtime, and requires less networking hardware, which in turn could actually save you money in the long run.
Data & Telecom Services
Fiber Optic & Copper Cabling up to 10gbit
Troubleshooting & Repair
Network Wiring & Installation
Wire Management
Network Testing
Patch Panel Termination
Installation and/or Relocation of Equipment Racks, Cabinets, and Distribution Frames
Installation and/or Relocation of Cable Managers, Cable Runways, and Trays
Data Center Electrical System Design for Achieving Optimal Efficiency
Identification and Removal of Unused Data, Telecommunications, Equipment Cables, and Cross Connects from Closets.
Equipment Rooms, and Tenant spaces.
Reconnecting of Voice and Data Distribution Frames.
Grounding Systems
New Equipment Installation
Evaluation of Data Requirements
Data Rack Construction
24/7 EMERGENCY CALL: 707-791-2017
If you have an after-hours emergency and need immediate assistance, please call the number listed above to reach our on-call technician.